Oh Dexie Mexie Cottontail – what a week! Your cold lasted until last Thursday and although you were quite a trooper, it was still difficult. Mommy slept in a sleeping bag on your floor from Sunday through Thursday. Although I had a great time sharing your bedroom with you I always imagined our first camp out to be more fun and LESS exciting.
Milestone wise you are amazing! You are lifting your head, playing with toys and you are even starting to push off the ground with your feet. Aunt Angi brought over her exersaucer and I think you like it. I say "think" because you look a little weirded out yet you smile as well!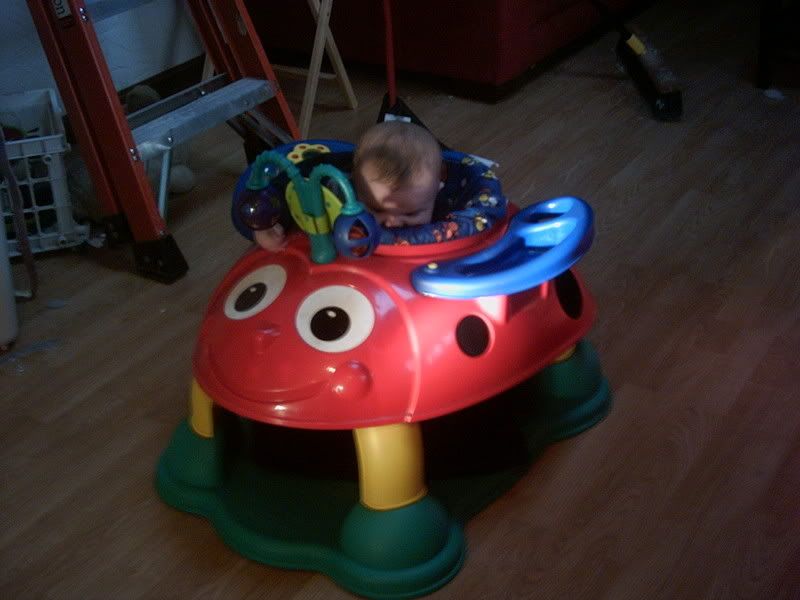 On Saturday, Mommy and Daddy brought you to Babies r Us to look at Christmas gifts. Oh I wonder what Santa Clause will bring you?
Halloween wasn't as fun as we thought. We had your 4 month appointment so we knew we couldn't go anywhere at night and show you off. We tried to get you to wear the costume to the doctor's office but you've grown since I purchased it and I think it was too tight on your neck. At the doctor's we found out you are 16 pounds 12.5 ounces and 24 inches tall. That means you are in the 81st percentile for weight and the 18th percentile for height. You're fat and short! Oh…I really wish you hadn't gotten mommy's genes!