It is 6 o'clock in the morning and you and I, little one, have been up since 3:30 am! We went to Ikea yesterday and you had such a whirlwind day you went to bed at 5 p.m. Now mommy's paying for it!
We have had a busy two weeks. You started eating solids on November 3. At first you didn't like it because it was more work than the bottle and you like your food like your women: fast and hearty! (HA!) Now you love it! We eat one meal a day and you gobble it up with gusto!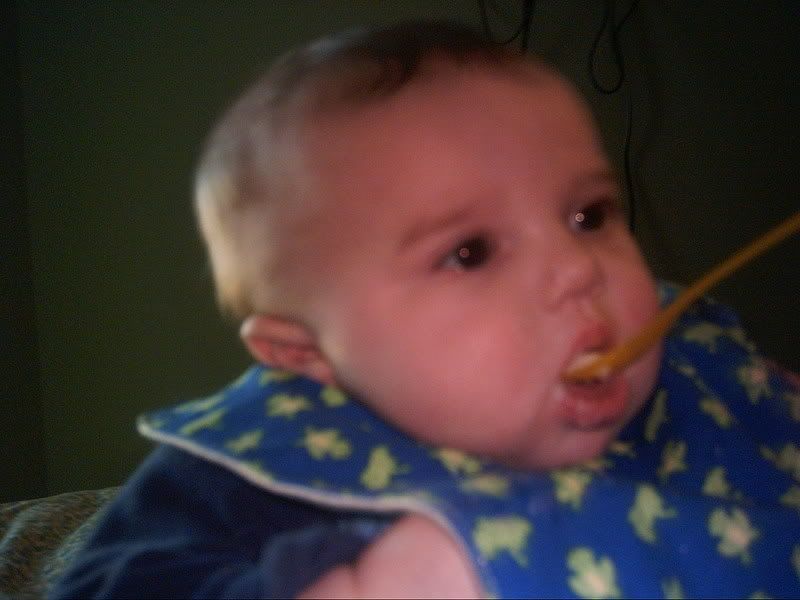 On Tuesday, November 7th you got to take part in Election Day! You were so happy that the Democrats took back the house and Senate that you and mommy danced with glee! You really liked all the sights and sounds of the polling place but you didn't like the aggressive and smelly people who kept grabbing your cheeks. The volunteers even offered you a ballot! You gotta love Massachusetts!
Milestones:
1. You are really playing with your toys! It is so fun to watch these toys that have been around you since birth finally mean something to you.
2. You love to stand! At your doctor's appointment you started standing and you haven't stopped. You think it is the coolest thing in the world!
3. You are beginning to think that your Daddy is the coolest toy you have! Oh how he makes you giggle!