I can't write much because I have one of those awful cold things again! I think my brains are actually running out of my nose!!! Unfortunately the cold hit when Mommy and Daddy had other Mommies and Daddies over for this thing they call a "party". It just looked like alot of giggling and drinking from bottles.
Anyways....today mommy and I emailed Santa. I can't upload the actual email but Mommy said we'd cut and paste the words in for you all to read.
#1, Rudolph Way
North Pole, Canada
HOHOHO
Saturday, December 09, 2006
What a nice surprise Declan! Thank you for sending me your email all the way from Lowell! HO!! Ho!! ho!! Did you know there are lots of elves in Lowell? I hear they like visiting Lowell because there's a special boy by the name of Declan that lives there! (*wink*). Mrs. Claus and I were just talking about how you are such a beautiful little baby boy, Declan! We even have a very special present picked out for your first Christmas. But there are so many people that love you Declan, that this Christmas I think the best present of all is going to be the happiness you've brought to everyone in your family. I also hear you've been a REALLY REALLY good baby boy.
I know Mrs. Claus was really excited when she added your name to the Nice List for the very first time. Let's see what you put in your letter for Christmas wishes:
1. magical music bouncer;
2. highchair and;
3. roll-a-rounds drop & roar dinosaur.
What wonderful presents! I really wish the elves could make enough presents for everyone because I know they are always a little sad if they can't. I hope you won't be sad Declan if I can't bring you everything you want because everyone here really wants you to have a very Merry Christmas! HO!! Ho!! ho!! The elves are diving into the present wrapping machine again! Such silly elves! They're okay, but I guess I better go help unwrap them. Take care Declan -- I'm really looking forward to seeing you in person for the first time this Christmas Eve. That's only 16 sleeps away (not including naps of course)!! Wishing You A Very Merry First Christmas!
Santa Clause
I still think its weird that we let him break into our house but the guy sounds kind of nice!
Oh, guess what? I'm totally starting to sit by myself. Not too shabby, eh? It looks like I'm touching my toes because I'm all scrunched over at the belly. This m rning I was doing such a good job, Mommy wanted to take a picture. Needless to sayI got my first noggin bump because I faceplanted onto the floor! Mommy, don't you know you are supposed to be watching out for me?!?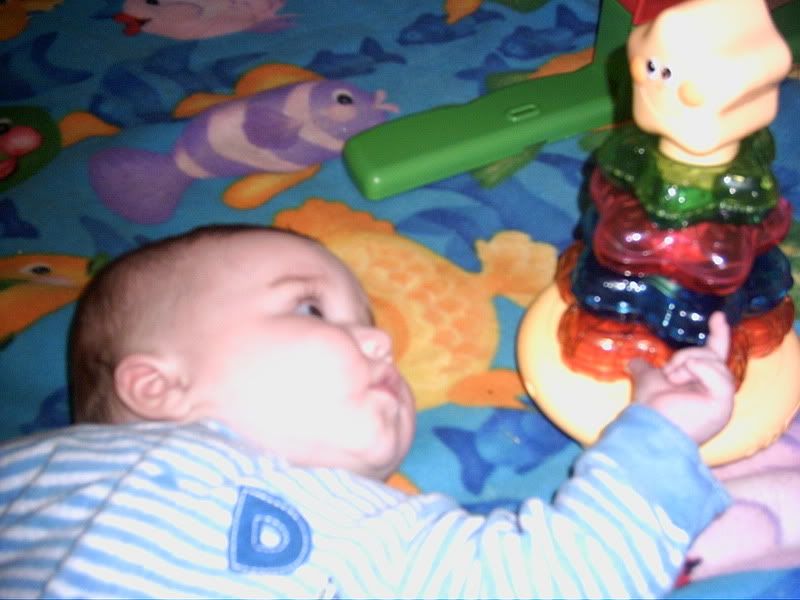 This is the new toy I faceplanted over. I think its worth it!